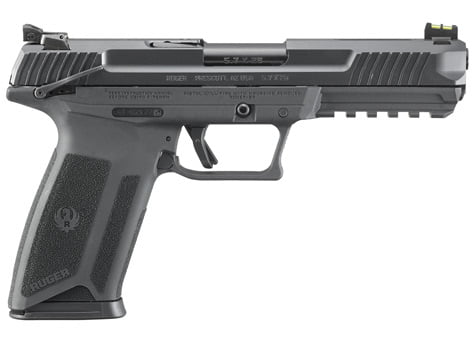 UPDATE:
While we are out of the ss195lf,
We received a delivery of American Eagle 5.7 ammunition.
As of today we have 1 Ruger 57s and 2 FN Five-Sevens pistols.
We can now sell 100 rounds or 2 boxes of 5.7x28mm American eagle ammunition for every 5.7 pistol we have in stock. Ammo sold with current 5.7 pistol purchase only.
You know you want this flat shooting, low recoil, small group producing and above all a simply fun pistol.
We are saving this ammo just for you.
***************************************
We have 2 Ruger 57s in stock.
This is the highly desired, not easy to get 5.7x28mm Pistol.
The ammunition is highly desired by many. We have 1 box ss195lf left to sell with 1 of the pistols only.
We have the ammunition on order. However if you want a 5.7 pistol and ammunition, come on down before that 1st pistol is sold.
Be the first to get one.
Be Safe Shoot Safe